10 GIFs That All Moms Who Have Shopped With Their Kids Can Relate To
Shopping with your kids can be quite the experience. 
If the thought of lugging your children through Target or Costco sends terrified shivers down your spine, just know you aren't alone! We totally feel you and can totally relate. Here are 10 GIFs that all moms who have shopped with their kids can relate to.
1. When your kid asks if they can have every toy you pass.
HA, what dream world is this kid living in?
2. When your kid says they want to go home five seconds into shopping.
What a fool!
3. When your kid asks to use the bathroom right as you're about to check out.

Hold it or lose it, kid.
4. When the tantrums begin in the middle of a crowded aisle.
GOD HELP US.
5. When the cashier says "I can help you over here" and gets you out of a crowded line with your screaming babies.
Praise you, kind cashier person.
6. When your has the nastiest poopy diaper of their life in the candle section of Target.
The desecration of the most holy of aisles! The injustice of it all!
7. When the kids knock over an entire ceramic display case at Crate & Barrel.
It just isn't right.
8. When Starbucks is closed so you have to shop at the mall sans-caffeine.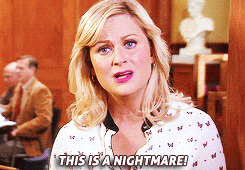 There is nothing worse than trying to shop with a herd of bratty kids in tow without the sweet elixir of coffee.
9. When the person in front of you changes their mind on paying cash midway through check-out.
REALLY? WHY NOW?
10. When you realize on your way home you forgot two of your bags in the store, and have to turn the caravan around.
Godspeed.